Cylinder
A statement in simplicity, the Karaka Cylinder planter is suitable for upright plant displays in spaces both large and small.
Description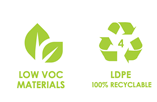 The Karaka cylinder is available in a range of stock sizes, or can be made to measure and so meet your specific space requirements.

The Karaka Cylinder is made from lightweight aluminium, and can be supplied with a powder coated finish to the colour and powder type required.

Here is a selection of the wide range of standard sizes available.

Model

Diameter

Height
Shelf height
(from top)
Cylinder 18
185mm
160mm
n/a
Cylinder 30
315mm
320mm
n/a
Cylinder 60
600mm
550mm
n/a
Tall Cylinder 25-60
270mm
600mm
245mm
Tall Cylinder 30-45
315mm
450mm
311mm
Tall Cylinder 40-60
430mm
600mm
430mm
Karaka Cylinder planter brochure