Civic Bin
The elegant Civic Bin lends itself to service in a host of public and commercial locations, such as CBD, urban, educational and port areas.
Description
Made from galvanised mild steel powder coated to colour of choice, with an aluminium lid, the robust and sturdy Civic Bin will stand up to the harshest treatment for years.

The Civic Bin is available in two sizes, with recycling livery optional. It can be installed surface, in ground or post mounted as required.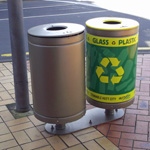 Large Civic Bins
Civic Bin Brochure
Civic Bin Specifications
Civic Bin Installation Guide