Steel Bike Racks
Steel Bike Racks
Traffic Controls & Bike Racks
Description

Our bike racks fit the bill for playgrounds, schools, parks and business premises. The Standard Bike Rack is used extensively in schoolyards and workplaces. The most popular size is the 6-bike, however this design can easily be applied for as few or as many bikes as you wish.

For some extra style in city shopping precincts, the City Hoop Bike Rack provides unobtrusive yet secure bike parking.

We specialise in bike racks customised to your own design. Examples include the nifty yellow racks in Bridge St., Nelson designed by Canopy Landscape Architects, and racks to Victoria University's own design installed around the uni's Wellington campus.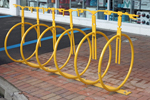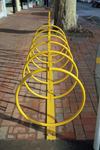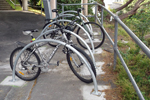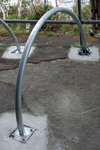 All our steel bike racks are supplied hot dip galvanised, and they can be powder coated or wet sprayed in any standard colour.

City Hoop Bike Rack specifications