Oil Jar
Conjuring up images of Alibaba and the Forty Thieves, the tall Karaka Oil Jar is a striking plant container, and a talking point wherever it is on display.
Description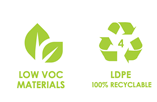 There's also a small OIL JAR series fit for table and counter placement, projecting the exotic theme created by this shapely form.

As with all our other Karaka planters, the Oil Jar can be powder coated to the colour of your choice and has many different sizes to choose from.

| | | |
| --- | --- | --- |
| Model | Diameter | Height |
| Karaka Oil Jar 15S | 190mm | 200mm |
| Karaka Oil Jar 18S | 220mm | 220mm |
| Karaka Oil Jar 25S | 310mm | 300mm |
| Karaka Oil Jar 30S | 370mm | 350mm |
| Karaka Oil Jar 35S | 430mm | 410mm |
| Karaka Oil Jar 40S | 510mm | 480mm |
| Karaka Oil Jar 60S | 650mm | 600mm |
| | | |
| Karaka Oil Jar 30T | 370mm | 500mm |
| Karaka Oil Jar 35T | 430mm | 590mm |
| Karaka Oil Jar 40T | 510mm | 650mm |
Karaka Oil Jar planter brochure